Biography of Sir Thomas Powys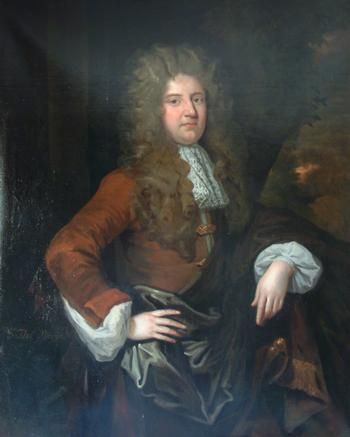 Sir Thomas Powys (c1700) Sir Thomas Powys coat of arms


Birth 1649 in Snitton, Shropshire
Death 4 Apr 1719, Lincoln's Inn Fields
Burial Thorpe Achurch Church, Oundle, Northamptonshire
General Lawyer, Solicitor General, Attorney General, Knight Bachelor, MP for Ludlow, and Judge.
Education Queen's College Oxford
Father Thomas Powys (of Henley in Shropshire) (1618-1672)
Mother Anne Littleton (c1622-1655)

First Spouse Sarah Holbech
Birth c1666
Death 1694
Burial Mollington, Warwickshire
General 1st daughter
Father Ambrose Holbech (c1632-1701) of Mollington, Warwickshire
Mother Sarah Harvey (c1645-1682)

Marriage 4 Jun 1685, Mollington, Warwickshire

Children Thomas (1686-1720)
Edward (1690-)
Ambrose (1692-1753)
Anne (-1747)
Sarah
Jane (1692-1782)

Second Spouse Elizabeth Meadows
Birth c1668
Death 4 Dec 1728, Sion, Isleworth
Burial Thorp Achurch Church, Oundle, Northamptonshire
Father Sir Philip Meadows (1626-1718) of Chattisham, Suffolk.
Mother Constance Lucy

Marriage 1 Oct 1698, Licenced for St Anne's, Westminster, London

Children Philip (<1704-<1704)
Philip (1704-1779)

Notes for Sir Thomas Powys:
Powys, Sir Thomas (1649–1719), lawyer, Judge and politician.
1648 born at Snitton, second son to Thomas Powys serjeant-at-law, of Henley, Shropshire, and Anne (c1622–1655), daughter of Sir Adam Littleton, chief justice of North Wales, and younger brother of Sir Littleton Powys (1647-1732). By his first wife he was ancestor to the Lord Lilfords, his great grandson being created Baron Lilford in 1797.
1663 at Shrewsbury school, as were his brothers Littleton and Edward. Other old boys (not exact contemporaries) who became prominent in the law were Sir Wm. Williams (Solicitor General to Sir Thomas at the trial of the Seven Bishops), Lord Halifax, and Sir George Jefferies.
1664 May 20, matriculated at Queen's College, Oxford.
1666 February 19, admitted to Lincoln's Inn in London.
1673 April 24, called to the bar at Lincoln's Inn.
1677 became a freeman of Ludlow in Shropshire.
1685 June 4, married Sarah, daughter of Ambrose Holbech of Mollington, Warwickshire, who died in March 1694, and by whom he had 3 sons, Thomas, Edward, Ambrose and 3 daughters, Sarah, Anne and Jane.
1686 April 23, made Solicitor General and knighted. He argued in favour of the King's dispensing power, and had issued warrants - which others had refused to do - authorising Roman Catholics to hold office as, for example, lawyers or churchmen.
1686 April 27, elected a Bencher of Lincoln's Inn.
1687 served as Treasurer of Lincoln's Inn.
1687 he was appointed Attorney-General to James II. During the reign of James II (reigned 1685-1688) Powys was active in promoting the king's policies, a role which may justify Burnett's writing of him as 'a compliant young aspiring lawyer'. He appeared for the crown in Godden v. Hales, a test case in which the king sought to establish the legality of the dispensing power. In this instance Sir Edward Hales, a Roman Catholic officer, was prosecuted for holding office contrary to law but invoked in his defence the king's dispensing power. As an officer of his Inn, Powys encouraged his fellow benchers in sponsoring the call of Roman Catholics to the bar.
1688 June prosecuted the Seven Bishops, among them the Archbishop of Canterbury for seditious libel the seven bishops who, on the ground that it was an exercise of the disputed dispensing power, had opposed the reading in churches of the declaration of indulgence extending religious toleration to dissenters. They had refused to comply with an order of King James II, who was trying to re-introduce Roman Catholicism. The actual charge, however, was a technical one of libel, in that the seven had presented a petition to the King which, by questioning his acts, was alleged to bring his government into scandal - regardless of the truth or falsity of their assertions. The defence, equally technical, was a) that it was not proved that they were the authors of the petition, b) it was not in any case a libel, not being of seditious intent. Sir Thomas, by virtue of his position and the seniority of the defendants, had to lead the prosecution. From the verbatim account, it is clear that - as was said at the time - he made the best of a bad job. The unpopularity of the proceedings and the acquittal of the defendants were no reflection upon Powys, for he was said to have 'acted his part in this trial as fairly as his post could admit of'. The attorney was pretty moderate, but the solicitor was violent and mighty zealous in prosecution (according to Luttrell). The bulk of the examining was done by the Solicitor General, but Sir Thomas intervened at times, in a dignified and sensible - not petty - manner. He argued clearly, and with good sense and humanity (At one point in the trial he examined Samuel Pepys). King James was inspecting his troops when sections of them broke out into cheers, which spread and grew in volume. He asked what it was about, and was told that the news had just come through that the bishops had been acquitted. The trial sealed his unpopularity, and he soon left the county in December of that year. Sir Thomas wrote to the Archbishop of Canterbury: It was the most uneasy thing to me that ever in my life I was concerned in. King James was replaced by William of Orange, King William III (vociferously welcomed by Sir Thomas' own brother Sir Littleton Powys), and Sir Thomas was out of his job after only one year in it. He remained, however, fully employed as a barrister, mostly in civil suits in the House of Lords (for example the Duke of Norfolk's divorce petition). Sir Thomas's practice at the bar mirrored the loyalty he had displayed towards James II.
1689-1714 during the reign of William III (reigned 1689-1702) he built up his practice by defending state prisoners, among them Sir John Fenwick, the author of the Jacobite plot of 1696, and his practice developed such that in the last years of Queen Anne's reign (reigned 1702-1714) Sir Thomas 's fees were said to amount to nearly £4000 a year (worth £550,000 a year in today's money) . That sum was augmented by investment in the financial markets when he held no legal office.
1695 & 97 as Lord of the Manor he repaired the bridge at Ludlow and the chapel at Middleton. The chapel still stands, an enchanting Norman building. The wooden bridge has been replaced.
1698 October 2, married Elizabeth Meadows, daughter of Sir Philip Meadows, of Chattisham, Suffolk. He had two sons with his second wife.
1700 became a freeman of Portsmouth in Hampshire.
1701 elected Member of Parliament (MP) for Ludlow in Shropshire, remaining in that position till 1713, when he had to stand down on being made a Judge. Sir Thomas stood for parliament for the first time in January 1701 and was returned at the top of the poll as member for Ludlow after a three-cornered contest with two Tories, one of whom had questioned his loyalty to the government. He was conjointly MP for Truro in Cornwall during some of this period. In particular, he was nominated for Truro at the general election of 1702 as his fate in his native Shropshire seemed uncertain. He was, however, returned at both Truro and Ludlow but chose to serve for the latter. Sir Thomas 's prominence and his legal ability were reflected in his activities in parliament so that many of his numerous committee appointments were to committees of address and to drafting committees. Sir Thomas supported the Coalition Ministry of Tories and Whigs after its reorganization in 1704, was listed as a placeman in 1705, and was re-elected in that year for Ludlow. His attitude to the speakership vote on 25 October 1705 was neutral such that he would vote neither for the Whig nor for the Tory candidate, withdrawing from the House of Commons before the question was put. On the resignation of the Robert Harley and his Tory supporters in February 1708 and the end of the Coalition Ministry , Sir Thomas reverted to opposition and spoke on 9 March 1708 against the bishop of Carlisle's Cathedrals Bill, which was widely regarded as a Whig (ie court sympathy cause. As an MP in 1710 he spent £400 (worth £55,000 in today's money) buying the votes of 300 electors, whilst the other candidates spent more. For much of this time his fellow MP for Ludlow was his old schoolmate, Baldwin. Sir Thomas's restoration to the rank of King's Serjeant in 1714 marked the end of his parliamentary career as he returned to his practice at the bar and did not stand again.
1702 created serjeant-at-law in 1702, and held the office of Queen's Sergeant (chief prosecutor for the Crown) for Queen Anne from 1702 to 1713.
1707 with two others, he proposed a bill to beautify and preserve Lincoln's Inn Fields.
1707-19 Recorder of Ludlow (ie. chief judicial authority).
1710 wrote to Robert Harley expressing his desire to be reappointed Attorney-General if Sir Simon Harcourt should be appointed Lord Chancellor. In recommending himself to his patron, Sir Thomas told Harley that the office was a 'place [he] could make easy, by wholly applying [himself] to the execution of [the] office'.
1711 bought the manors of Lilford and Wigsthorpe from the Elmes family, who had built Lilford Hall in 1635. He also owned houses at Sion near Isleworth, and in Lincoln's Inn Great Fields, the latter being left to his son Philip.
1713 June 8, made a Judge of the Queen's Bench. After this, according to Thorpe's Lincoln's Inn Men, his arms were emblazoned in the old hall, opposite his brother's, with the inscription Miles Unus Justicianorum de Banco Reginae 1713. The shield is preserved in the ancient glass in the new building.
1714 October 14, On Lord Chancellor Cowper's advice, at the accession of King George I (reigned 1714-1727), he was removed as a Judge from the Queen's Bench, partly because he was said to be still devoted to the Pretender (James Francis Edward Stuart), partly because he always voted with his brother Sir Littleton on the board of their Inn. Another reason for his removal from the bench seems to have been that he had held the office of Attorney-General to James II until the abdication and during that period had been 'zealously instrumental in most of the steps which ruined that prince and brought … great dangers on the kingdom'.
1714 October 28 appointed as King's Serjeant, after a series of letters of appeal to the Lord Chancellor from his removal as a Judge from the Queen's Bench.
1717-1719 held office as prime King's Serjeant.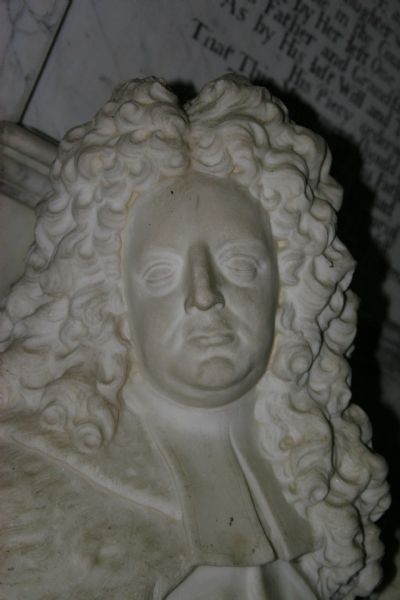 Marble bust of Sir Thomas Powys (in Achurch Church).
1719 April 3 or 4 died, at Lincoln's Inn Fields, late of Sergeants Inn. He was buried at Lilford Church. His tomb, which bears an effigy in robes and an inscription by Matthew Prior, was moved to St John Baptist Church, Thorpe Achurch, also in Northamptonshire, in 1778 when the Lilford Church was pulled down. The epitaph was composed by Matthew Prior, and the following is an extract:
He studied, practised and governed the law in such a manner that nothing equalled his knowledge except his eloquence, nothing excelled both except his Justice; and whether he was greater, as an advocate or a judge, is the only cause he left undecided.
Note on Sir Thomas's legal career:
Historians have disagreed sharply about Sir Thomas. T.B. Macaulay, in a passage in which his Whig sympathies are all too apparent, describes him as 'an obscure barrister, who had no qualification for high employment except servility', a judgement not qualified by Bishop Burnett's comment on his lack of ill nature. A modern historian on the other hand speaks of him as '[a barrister] in the very highest flight'. Less contrasting are the estimates of Sir Thomas's abilities supplied by two of his near-contemporaries. Arthur Onslow as a young man heard Sir Thomas when in December 1711 he appeared as counsel with Serjeant Pratt for the Duke of Hamilton in the House of Lords. Sir Thomas and Pratt were instructed by Hamilton to advance the legal argument which preceded the debate on whether the English title of Duke of Brandon conferred on him by the Queen in September 1711 entitled him to sit in the House of Lords: the vote went against the Duke but Onslow recorded that Sir Thomas's speech 'was deemed a great performance. He exerted all his strength and left very little for Pratt to say although one of the most able advocates of that time'. Peter Wentworth was less impressed, saying that 'they both [Sir Thomas and Pratt] seem'd as if they lay under difficulty, that they had no lawyers to answer, but was to suppose what objections were to be made'. That observation may perhaps have been more a comment upon the constraints under which counsel were labouring than an estimate of their oratorical powers.

An antidote, written by the same Matthew Prior who wrote his epitaph, follows:
A Reasonable Affliction
On his death bed poor Lubin lies;
His spouse is in despair.
With frequent cries and mutual sighs
They both express their care.
"A different cause," says Parson Sly,
"The same effect may give.
Poor Lubin fears that he may die,
His wife that he may live."
Likenesses
R. Hartshorne, statue, 1720, St John Baptist Church, Thorpe Achurch, Northamptonshire (bust of which shown above).
Portrait (top of page) left to his eldest son Thomas, showing him in the dress of a gentleman in the time of William and Mary.
Seal is in the British Library (CLIII), as is a book with his signature in it.
Will

Will of Sir Thomas Powys, His Majesty's Sergeant at Law 17 April 1719.
His will is in the Public Records Office. He left land in Shropshire, Northamptonshire, Middlesex, and Lincoln's Inn Fields, plus £20,000 in money (worth nearly £3 million in today's money), of which £12,000 was for his youngest son Philip to buy land. Because he was only 15 at the time, his inheritance was put in trust.

Arms Blazon

Powys Coat of arms

Or a lion's leg razed set bendwise between two crosslets fitchy gules
The arms grant appears in Foster's "Grantees of Arms to the end of the 17th century" for his father, Thomas Powys of Henley.
The arms of the Lilford Powyses were, according to the Harleian Grant Book, granted to Thomas Powys of Henley in the late 17th century. These days these arms have supporters and a peer's helmet but the core arms and crest are (from the 1885 Burke's Peerage):
Arms: Or, a lion's gamb, erased, in bend dexter, between two cross-crosslets, Fitchée, in bend sinister, gules.

Crest: A bear's gamb, erased and erect, gules, holding a sceptre, in bend, sinister, headed with a fleur-de-lis, or.


Main Sources
Tim Powys-Lybbe, Powys-Lybbe forbears (2009)
T. B. Macaulay, The history of England from the accession of James II
Sir Thomas Powys, House of Parliament (Commons).